About me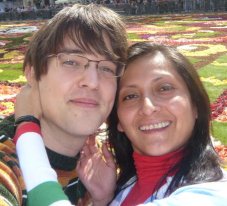 My name is Alexandre Devilliers, I usually go by the alias/nickname Elbereth (now you understand the name of the web site).
I am French and I consider myself a world citizen. I was born in 1979, I married in 2006 my wonderful Cinthia from Peru (a really wonderful country!). We have 2 kids: a boy and a girl.
My native language is therefore French, but I am also fluent in Spanish (lived 8 years in Madrid/ Spain, my wife is Peruvian and I currently live and work in Costa Rica!) and in English (TOEIC 910 and worked for 10 years mostly English). I also tried to learn Modern Greek (I lived in Athens/ Greece for 3 years) but with no good results... And I know the basics of Dutch.
I studied computer science, economy and management in the Université Paris-Sud XI Orsay IUP MIAGE where I got a Maitrise diploma in 2003.
Since then I worked for 10 years on SAP in the Utilities domain (IS-U module) specifically in the tariffication/billing area. I made some projects for the biggest electricity and gas companies in France, Belgium and Luxembourg.
And now I am a manager for a tourism agency in Costa Rica.
GPG Key
Here is my public GPG key if you want to verify the authenticity of the messages you receive from me (I usually don't sign my messages but you can ask me to do it), or send me secure messages:
Alexandre Devilliers (aka Elbereth/Piecito) Public GPG Key
Contacting me
Here is how to send me an email:
alexandre.devilliers (chez) elberethzone (punto) net
Replace:
Then remove any space, this is to avoid as much as possible spam.
A couple of words about the translator in Russian:
My name is Alexey. One of my aliases is Alexms69. At the time of the translation, I am doing a couple of amateur projects: digiology.org, hp-games.net. Also I'm a little keen on foreign languages (French and English), so sometimes I help authors of interesting projects with the creation of Russian versions of application interfaces, and sometimes sites :-)